After Louis Bernier (John Walter's father) passed 23 Mar 1854, Rutha married Francois (Frank) Edmond LaChance 24 Dec 1863. 

It is listed in some family history records (not sure if this is done because Alexander took on the name LaChance, if all research completed is inaccurate somehow or if people have overlooked the dates involved) that Rutha and Frank had 3 children together, but it shows that Alexander Andre LaChance (https://www.findagrave.com/cgi-bin/fg.cgi?page=gr&GRid=71756656) was born on 12 Sep 1854 (just 6 months after Louis Bernier passed away) as do various other sources.
Considering the date of Alexander's birth and Rutha & Frank's marriage (almost 9 years after Alexander's birth) it is safe to say that Louis Bernier is actually Alexander's biological father; John Walter Bernier (Burnia)'s full-blooded brother.
So I feel it's important to note as Alexander Andre LaChance's line may use the LaChance lineage in their family history, if there's any interest in the actual ancestry, they are Bernier's by blood descent. 

Rutha & Francois did have two (2) sons together: Charles Joseph LaChance (born 1864) and James Andrew LaChance (born 1865). I suspect Rutha is buried at Mine La Motte, but I have been unable to confirm this. Once I do, I'll update that here. Rutha LaChance is listed as the medical attendant on several birth certificates in Mine La Lotte, Madison County, Missouri. She passed in 1880 in Mine La Motte, Madison County, Missouri.
If you have anything that shows differently please send it to me so I can correct this, but this far I'm confident in my assumption due to what research I have completed.
This also shows how the Bernier's and LaChance's are connected in Madison County, Missouri.
Below you'll find the 1860 Census record in Madison County, Missouri that shows Louis Francis Bernier, John Walter Bernier/Burnia, Mary Ann (cited below is Mary) Bernier and Alexander Andre LaChance living together with Francois and Rutha. There is a female infant of 8 months old living in the household with no first name listed. It is known that Rutha and Francois only had sons so perhaps this is an infant daughter of Francois and previous wife that I'm not aware of yet?
Note that Louis Francis, John Walter and Mary Ann are all Louis Bernier & Ruth (Renfro) Bernier's children.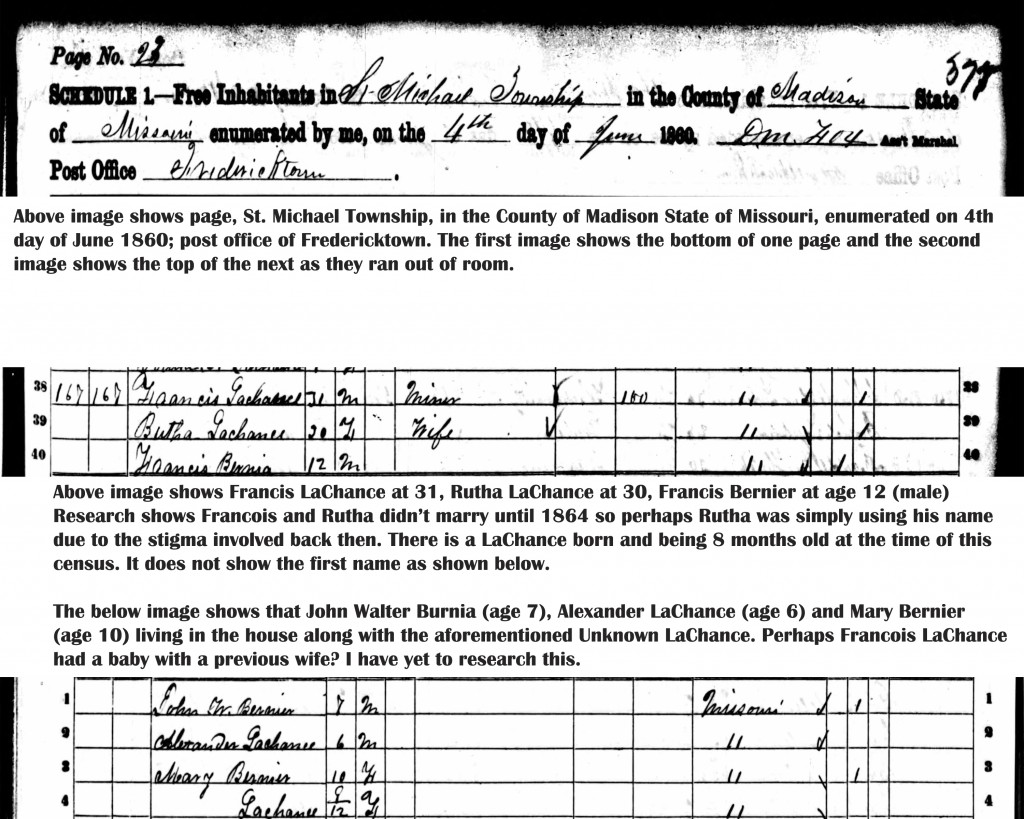 ---
Alexander Andre LaChance marriage and their children (if you're curious on where to research this line from here):
Spouse:
  Phermona Parlee Watson LaChance (1847 – 1912)*
 
 Children:
  Mary Ruth LaChance (1880 – 1978)*
  John Walter LaChance (1886 – 1975)*
  James Andrew LaChance (1888 – 1979)*
  Laura Melvina Lachance Adams (1891 – 1955)*
  Sylvester 'Ves' Lachance (1901 – 1983)*