SGT Amanda Pinson is my 1st cousin; our Mothers are sisters. I wanted to create a memorial page for her on my family history website so important dates are listed & kept updated.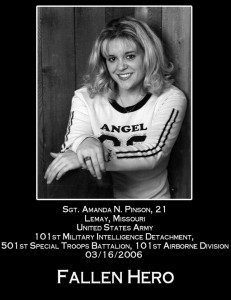 Born: 07.31.1984 in St. Louis, MO
Died: 03.16.2006 in Tikrit, Iraq
Army Sgt. Amanda Pinson, 21, of Lemay, MO assigned to the 101st Military Intelligence Detachment, 501st Special Troops Battalion, 101st Airborne Division (Air Assault), Fort Campbell, Ky.; was killed March 16th, 2006 when a mortar round detonated in Tikrit, Iraq. Pinson was a 98C Signals Intelligence Analyst and the first female Signal Intelligence Analyst to ever be killed in combat. The United States Army will be naming their new Cryptology Center, "Pinson Hall", in her honor.
Pinson graduated from Hancock Place High School in 2002. She was one of the top students in the class, winning several scholarships. She cheered with the pompon squad, played basketball and softball.
At her funeral service, at Hoffmeister Funeral Home on Lemay Ferry Rd., her parents  accepted a Bronze Star, Good Conduct Medal, Global War on Terrorism Medal and a Purple Heart for their daughter. Visitors filled the chapel and two other rooms to standing-room-only capacity, with closed-circuit television broadcasting the service.
State Rep. Patricia Yaeger, D-Lemay, told Pinson's family at the service: "The state of Missouri stands with you. We mourn with you.". During the procession, which included 117 bikers from the Patriot Guard, hundreds of Lemay residents lined the streets from the funeral home to Jefferson Barracks National Cemetery where Sgt. Pinson was laid to rest with full military honors.
IMPORTANT DATES:
Honored by the United States Army on July 26th, 2012:
The SGT Amanda N. Pinson Training Support Center ribbon cutting & plaque unveiling ceremony took place at Fort Leonard Wood, Missouri. The building sits on over 2 acres and took approximately 18 months to build. The building consists of four separate sections: Administrative, training (to include simulators like the Engagement Skills Simulator for weapons training), warehouse (where they have an equipment library to loan out training devices and items for units to use in their daily training activities), and a fabrication section (where they will be able to make training devices).
December 7, 2011: The plaque from Pinson Hall, on FOB Speicher in Tikrit, Iraq, was hand delivered to Amanda's mother, by Sgt. Maj. Mari Sidwell 4th Infantry Division Military Intelligence Sergeant Major. It was removed from FOB Speicher as Speicher was shut down due to the withdrawal of US Troops from Iraq.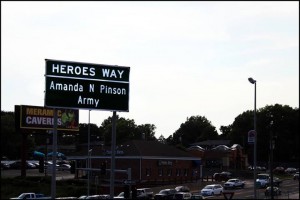 October 2011: Heroes Way sign placed at Bayless and Highway 55 (both North & South). Amanda grew up in Lemay on Bayless.
May 2011: Patriot Rovers announced they would be honoring Amanda by naming one of their PTSD trained dogs after her. Chris Andrews, Amanda's mother, named her Mandy. Mandy is now with Army SFC Mathew L. Nagel and wife Rhonda. they will be the forever friends of "Mandy" Patriot Rover. Update: SFC Nagel passed away and Mandy remains with his wife, Rhonda.

 Honored by the NSA on Memorial Day 2006:
https://www.nsa.gov/about/cryptologic_heritage/memorial_wall/index.shtml (she was the first female intelligence soldier to ever be honored by the NSA; there are only 166 names on the wall to date: 12/2011) To read Amanda's biography, written by the NSA, please click here: https://www.nsa.gov/about/_files/memorial_wall/pinson.pdf
2006 (Official Date Unknown): The United States Army honored Amanda by dedicating the building where she worked and naming it "Pinson Hall" (Tikrit, Iraq on FOB Speicher). As mentioned above, the plaque that was mounted on the building was given to her mother on December 7th, 2011 after FOB Speicher was shut down.
November 2006: Fort Campbell held a ceremony honoring Amanda where she has her name on a stone by the flag on base.
June 3, 2006: A pink willow tree was planted, in her honor, at Hancock High School. Amanda graduated from Hancock High School in 2002.

March 2006: A song was written about her called, "Angel in Fatigues" (written by Blackie Starks) and played, for the first time at a tribute show, in her honor, on May 19, 2006. All money raised from the sale of "Angel in Fatigues" was donated to the SGT Amanda Pinson Memorial Scholarship.
SGT Amanda Pinson Memorial Scholarship Information:
To make a donation, please send by form of check or money order to be made to the: Hancock Alumni Association, Amanda Pinson Memorial Scholarship, ATTN: Sue Weber, 2191 Lemay Ferry Rd., St. Louis, MO, 63125. This scholarship will be given out to future graduates of Hancock Place High School. Christine Holmer was the first recipient in 2006.
Facebook Memorial Page:
Amanda's Mother & I maintain a memorial page in Amanda's honor at this location: https://www.facebook.com/SGTAmandaPinson
Amanda's Mother, Chris, has founded a 501(c)3 non-profit organization named the Missouri Military Memorial Foundation who will raise funds to erect a monument at Jefferson Barracks County Park honoring those who were either killed in action or a casualty of war during Operation Iraqi Freedom, Operation Enduring Freedom, Desert Storm and Desert Shield.