When my husband, daughter & I traveled to Lenox, Dent County, Missouri during the Summer of 2013 we knew our intentions of locating the infamous Mount Hermon Cemetery. I call it infamous because most of those buried there are connected via various family lineages of mine and I had been wanting to visit it since I was 19 years old (I was 39 when we made the trip). Twenty years later…we arrive.
It was in the middle of no where. Fortunately our GPS guided us there because I'm very confident that without it we would have been completely lost.
I knew the history of Mount Hermon and the records confirming that many of my ancestors were buried there. What I didn't know was…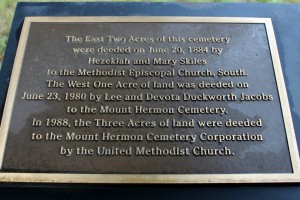 A portion of the land (the east 2 acres) that this cemetery sits on was dedicated by my 4th Great Grandparents (Hezekiah Isreal Skiles & Mary "Polly" Hobson) as stated on a plaque to the left just past the main entrance.
The more I walked through the cemetery the more I had to take deep breaths — I'd say it's safe to say that 90% of the people buried there are ancestors and via various lines. Somehow they all connect and generation after generation stayed in Dent County, Missouri for years. Nickles, Nichols (all the same line), Motsinger, Skiles…the list goes on & on.
I had to keep taking deep breaths because I never realized the magnitude of it until I walked through the gates and past the aforementioned plaque. The history of our ancestors almost felt as if it were calling out to me in the realm of, "I'm over here!", "Look over here…"
Name after name after name were calling out to me from various spots in the cemetery. I felt like I hit the genealogical jackpot. I stood at the final resting places of ancestors I had been researching for years, some I had only know about for a while and some that were completely new to me. My camera would be my official documentation on this trip…there was no way I could write it all down.
There was one burial plot that captured my attention specifically –  the double plot surrounded by an enclosed stone wall. I knew, due to the location of the plot, that whomever was buried there was related (family plot), but I didn't know who…or how. The stone was completely illegible and covered with vines, mold & moss. There was a newer headstone (laying flat on the ground to the right of the illegible stone headstone) that read, "Skiles". I just didn't know what Skiles or if there was one, two or more buried there. However, the size of the enclosement suggests no more than two plots.
To admit that I was intrigued would be an understatement. Just less than a year later I would finally figure out who was buried there per this will transcription:
SKILES,  WILLIAM – will  dated 28 Feb 1877. 
Wife, Rachel Skiles, all estate and after her death to be equally divided among my heirs (not named).   After we are both decd, the exr is to place stones on our graves and enclose them by a good stone wall.   Exrx, wife Rachel.   Wit: M. M. McSpadden, J. D. Reddick & Silas Headrick.    Recorded 15 Feb 1878.  (page 86)
Source: https://genealogytrails.com/mo/dent/wills.htm
DENT COUNTY, MISSOURI 
WILL BOOK "A",    1866 – 1893 
Just as soon as I read it I knew exactly what cemetery and plot that it was referring to. Is it officially confirmed? No, I would need to confirm that William & Rachel Skiles were buried at Mount Hermon. However, my hunch along with family history & the location of the Skiles family during this time period tells me that I'm right on the money.
I am going to try and make it back out there this summer to get a better picture of the headstone that lies flat to see what else the transcription says — just for better documentation. Until then… I'm satisfied with the connection.
Do I know who William & Rachel are in my lineage? No, but I have an idea of who they are. Without further research I won't make that claim, publicly… as of yet. If you know, please fill me in. If I figure it out before then I'll be sure to make an update.